CNC Machining Services
What is a CNC Lathe Machine?
Operated with Computer Numerical Control (CNC) systems and provided with precise design instructions, CNC Lathes are machine tools where the material or part is clamped and rotated by the main spindle, while the cutting tool that work on the material, is mounted and moved in various axis. CNC Lathes are normally used for machining parts, where the material / part is clamped and rotated whereas the cutting tool is stationery mounted for OD (Outer Diameter) and ID (Inner Diameter) operations, e.g. shafts and pipes. Here at Norjen Precision they are ideal for parts that have same symmetry around an axis that could be chucked up (i.e. radially clamped) in the spindle.
A simple CNC Lathe operates on 2-axis and the tool is located in a fixed position at 8 to 24 station turret. The rotating action of the part is called "turning", hence certain types of CNC Lathes are called CNC Turning Machines.
Milling (cutting tool moves around stationery workpiece), boring and tapping (a tool that cuts threads inside hole) tools are normally driven by a separate drive system inside the turret. Depending on the application, the life tools (i.e. active tool) are mounted for axial or radial operational directions. These could be found in 3-axis CNC Lathes or CNC Turning Machines.
Lathe machines with additional options such as Y-axis, sub-spindles, or specific selected options for automation are commonly called Turning Centres. These sophisticated machine tools are capable of machining complex parts – these go beyond standard OD & ID turning operations and may incorporate milling, drilling and tapping operations to complete the part in one setting.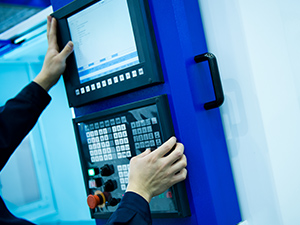 Taking a piece from raw part to finished product, such all-in-one machine tools significantly improves productivity.
Due to technological advancements, CNC lathes are quickly replacing some of the older and more traditionally used production lathes, such as the multispindle. CNC lathes come with a number of benefits. They can be easily set up and operated. They offer tremendous repeatability, along with top-notch accuracy in production. The very act of cutting any material using a lathe machine is called "Turning".
A CNC lathe is typically designed to utilize modern versions of carbide tooling and processes. A part can be designed for customization, and the machine's tool paths are often programmed using the CAD or CAM processes. However, a programmer can manually design a part or tool path as well. The resulting G-Code computer file is then uploaded to the CNC machine, and the machine will then automatically produce the desired parts for which it was programmed to design.
At Norjen Precision Limited we have the facilities incorporating our CNC lathes to perform / produce precise round shapes with both an Outer Diameter (OD), and an Inner Diameter (ID). Practically all kinds of structures could be machined with this machine tool, depending on their needs in different industries.
CNC Lathes are commonly used in industries such as oil & gas, automotive, aerospace, medical, electronics, mining, power plant, steel & paper mills, and ship building, just to name a few. Perhaps your organisation may be involved in these industry sectors and require a CNC service from Norjen.
Norjens Tactical Approach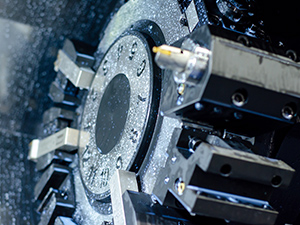 Norjen has subcontract machining routes which go back to the seventies, where the predominantly manual machines were the common place method of application. As time moves on and the engineering industry develops new technology. The contemporary methods of machining come to the forefront in order to achieve lead time efficiency, batch volume and repetitive accuracy. Although we at Norjen have the philosophy that manual machines despite being dated are key to certain processes even in the industrial operations of today, we have also been determined to develop a modern machining facility to fuse the two entities together giving an all round amalgamation of potential service. Therefore Norjen Precision Ltd acquired computer numerical control (CNC) machines to run alongside our manual machining facility and have implemented this double-barrelled approach. This has been a success over the past few years and we have concentrated on increasing our capacity within the CNC realms to satisfy client requirements and facility back up.
Certain items such as early stage forgings and castings may require a manual process, before placing them into a more refined process to enable CNC machines to continue down the process chain, for example finished machine stages to condition of supply drawing.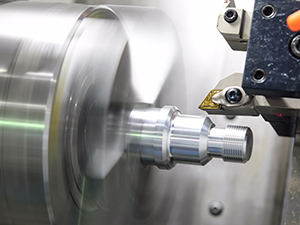 We are very pleased to be able to offer CNC turning up to a 700mm diameter within our selection of machine tools and frequently used FANUC CNC programming support systems which are installed on to a number of our machines. This may provide a possible service base for your organisation and give capacity to accommodate your needs, please feel free to ring or email to present or discuss your requirements. Since incorporating CNC machines into our equipment portfolio we have found that we have been able to provide a further connection with our client needs and offer an extra element of service and improved lead times.
The results of CNC machine use are really impressive and as you can see from some of our gallery illustrations, there is a clear demonstration of repeatability and accuracy.